By DOUGLAS MARTIN
Her three successive names were signposts on a twisted, bewildering road that took her from Stalin's Kremlin, where she was the "little princess," to the West in a celebrated defection, then back to the Soviet Union in a puzzling homecoming, and finally to decades of obscurity, wandering and poverty.
At her birth, on Feb. 28, 1926, she was named Svetlana Stalina, the only daughter and last surviving child of the brutal Soviet tyrant Josef Stalin. After he died in 1953, she took her mother's last name, Alliluyeva. In 1970, after her defection and an American marriage, she became and remained Lana Peters.
Ms. Peters died of colon cancer on Nov. 22 in Richland County, Wis., the county's corporation counsel, Benjamin Southwick, said on Monday. She was 85.
Her death, like the last years of her life, occurred away from public view. There were hints of it online and in Richland Center, the Wisconsin town in which she lived, though a local funeral home said to be handling the burial would not confirm the death. A county official in Wisconsin thought she might have died several months ago. Phone calls seeking information from a surviving daughter, Olga Peters, who now goes by the name Chrese Evans, were rebuffed, as were efforts to speak to her in person in Portland, Ore., where she lives and works.
Ms. Peters's initial prominence came only from being Stalin's daughter, a distinction that fed public curiosity about her life across three continents and many decades. She said she hated her past and felt like a slave to extraordinary circumstances. Yet she drew on that past, and the infamous Stalin name, in writing two best-selling autobiographies.
Long after fleeing her homeland, she seemed to be still searching for something — sampling religions, from Hinduism to Christian Science, falling in love and constantly moving. Her defection took her from India, through Europe, to the United States. After moving back to Moscow in 1984, and from there to Soviet Georgia, friends told of her going again to America, then to England, then to France, then back to America, then to England again, and on and on. All the while she faded from the public eye.
Ms. Peters was said to have lived in a cabin with no electricity in northern Wisconsin; another time, in a Roman Catholic convent in Switzerland. In 1992, she was reported to be living in a shabby part of West London in a home for elderly people with emotional problems.
"You can't regret your fate," Ms. Peters once said, "although I do regret my mother didn't marry a carpenter."
'Little Sparrow'
Her life was worthy of a Russian novel. It began with a loving relationship with Stalin, who had taken the name, meaning "man of steel," as a young man. (He was born Ioseb Besarionis dze Jughashvili.) Millions died under his brutally repressive rule, but at home he called his daughter "little sparrow," cuddled and kissed her, showered her with presents, and entertained her with American movies.
She became a celebrity in her country, compared to Shirley Temple in the United States. Thousands of babies were named Svetlana. So was a perfume.
At 18, she was setting the table in a Kremlin dining room when Churchill happened upon her. They had a spirited conversation.
But all was not perfect even then. The darkest moment of her childhood came when her mother, Nadezhda Alliluyeva, Stalin's second wife, committed suicide in 1932. Svetlana, who was 6, was told that her mother had died of appendicitis. She did not learn the truth for a decade.
In her teenage years, her father was consumed by the war with Germany and grew distant and sometimes abusive. One of her brothers, Yakov, was captured by the Nazis, who offered to exchange him for a German general. Stalin refused, and Yakov was killed.
In her memoirs she told of how Stalin had sent her first love, a Jewish filmmaker, to Siberia for 10 years. She wanted to study literature at Moscow University, but Stalin demanded that she study history. She did. After graduation, again following her father's wishes, she became a teacher, teaching Soviet literature and the English language. She then worked as a literary translator.
A year after her father broke up her first romance, she told him she wanted to marry another Jewish man, Grigory Morozov, a fellow student. Stalin slapped her and refused to meet him. This time, however, she had her way. She married Mr. Morozov in 1945. They had one child, Iosif, before divorcing in 1947.
Her second marriage, in 1949, was more to Stalin's liking. The groom, Yuri Zhdanov, was the son of Stalin's right-hand man, Andrei Zhdanov. The couple had a daughter, Yekaterina, the next year. But they, too, divorced soon afterward.
Her world grew darker in her father's last years. Nikita S. Khrushchev, Stalin's successor as Soviet leader, wrote in his memoirs about the New Year's party in 1952 when Stalin grabbed Svetlana by the hair and forced her to dance.
Defection
After Stalin died in 1953, his legacy was challenged, and the new leaders were eager to put his more egregious policies behind them. Svetlana lost many of her privileges. In the 1960s, when she fell in love with Brijesh Singh, an Indian Communist who was visiting Moscow, Soviet officials refused to let her marry him. After he became ill and died, they only reluctantly gave her permission, in early 1967, to take his ashes home to India.
Once in India, Ms. Alliluyeva, as she was known now, evaded Soviet agents in the K.G.B. and showed up at the United States Embassy in New Delhi seeking political asylum. The world watched in amazement as Stalin's daughter, granted protection, became the most high-profile Soviet exile since the ballet virtuoso Rudolf Nureyev defected in 1961. The United States quickly dispatched a C.I.A. officer to help her travel through Italy to neutral Switzerland, but American officials worried that accepting her into the United States could damage its improving relations with Moscow. Finally, President Lyndon B. Johnson, on humanitarian grounds, agreed to admit her but asked that there be as little fanfare as possible.
Unknown to Washington at the time, the K.G.B. was discussing plans to assassinate Ms. Alliluyeva, according to former agency officials who were quoted by The Washington Times in 1992. But, they said, the K.G.B. backed off for fear an assassination would be traced back to it too easily.
Her arrival in New York, in April 1967, was more triumphant than low-key. Reporters and photographers were waiting at the airport, and she held a news conference in which she denounced the Soviet regime. Her autobiography, "Twenty Letters to a Friend," was published later that year, bringing her more than $2.5 million. In 1969 she recounted her journey from the Soviet Union in a second memoir, "Only One Year."
Settling in Princeton, N.J., Ms. Alliluyeva made a public show of burning her Soviet passport, saying she would never return to the Soviet Union. She denounced her father as "a moral and spiritual monster," called the Soviet system "profoundly corrupt" and likened the K.G.B. to the Gestapo.
Writing in Esquire magazine, Garry Wills and Ovid Demaris — under the headline "How the Daughter of Stalin Denounced Communism and Embraced God, America and Apple Pie" — said the Svetlana Alliluyeva saga added up to "the Reader's Digest ultimate story."
As the Kremlin feared, Ms. Alliluyeva became a weapon in the cold war. In 1968, she denounced the trial of four Soviet dissidents as "a mockery of justice." On Voice of America radio, Soviet citizens heard her declare that life in the United States was "free, gay and full of bright colors."
Another Marriage
In interviews, however, she acknowledged loneliness. She missed her son, Iosif, who was 22 when she left Russia, and her daughter, Yekaterina, who was then 17. But she seemed to find new vibrancy in 1970, when she married William Wesley Peters. Mr. Peters had been chief apprentice to the architect Frank Lloyd Wright and, for a time, the husband of Wright's adopted daughter.
Wright's widow, Olgivanna Wright, encouraged the Peters-Alliluyeva marriage, even though the adopted daughter was Mrs. Wright's biological daughter from a previous marriage. That daughter was also named Svetlana, and Mrs. Wright saw mystical meaning in the match.
The couple lived with Mrs. Wright and others at Taliesin West, the architect's famous desert compound in Scottsdale, Ariz. There, Ms. Peters began chafing at the strict communal lifestyle enforced by Mrs. Wright, finding her as authoritarian as her father. Mr. Peters, meanwhile, objected to his wife's buying a house in a nearby resort area, declaring he didn't want "a two-bit suburban life."
Within two years, they separated. Ms. Peters was granted custody of their 8-month-old daughter, Olga. They divorced in 1973.
Information about the next few years is sketchier. Ms. Peters became a United States citizen in 1978 and later told The Trenton Times that she had registered as a Republican and donated $500 to the conservative magazine National Review, saying it was her favorite publication.
She and Olga moved to California, living there in several places before uprooting themselves again in 1982, this time for England so that Olga could enroll in an English boarding school. She also began to speak more favorably of her father, Time magazine reported, and perhaps felt she had betrayed him. "My father would have shot me for what I have done," she said in 1983.
Seeking Reconciliation
At the same time, Stalin was being partly rehabilitated in the Soviet Union, and Soviet officials, after blocking Ms. Peters's attempts to communicate with her children in Russia, relaxed their grip. Iosif, then 38 and practicing as a physician, began calling regularly. He said he would try to come to England to see her.
"For this desperate woman, seeing Iosif appeared to herald a new beginning," Time said.
Abruptly, however, Iosif was refused permission to travel. So in November 1984, Ms. Peters and 13-year-old Olga — who was distraught because she had not been consulted about the move — went to Moscow and asked to be taken back. Lana Peters now denounced the West. She had not known "one single day" of freedom in the West, she told reporters. She was quoted as saying that she had been a pet of the C.I.A. Any conservative views she had expressed in the United States, if they still existed, went unexpressed. When an ABC correspondent in Moscow tried to question her a few days later, she exploded in anger, exclaiming: "You are savages! You are uncivilized people! Goodbye to you all."
Ms. Peters and Olga were given Soviet citizenship, but soon their lives worsened. The son and daughter who lived in Russia began shunning her and Olga. Defying the official atheism of the state, Olga insisted on wearing a crucifix. They moved to Tbilisi, Georgia, but it was no better than Moscow.
In April 1986, they returned to the United States, with no opposition by the Soviet authorities. Settling at first in Wisconsin, Ms. Peters disavowed the anti-Western things she had said upon her arrival in Moscow, saying she had been mistranslated, particularly the statement about being a pet of the C.I.A. Olga returned to school in England.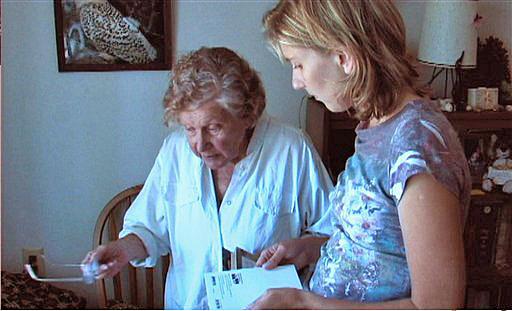 This still image from the documentary "Svetlana About Svetlana" provided by Icarus Films shows Josef Stalin's only daughter, Svetlana Alliluyeva and director Lana Parshina. An independent film is bringing to light a well-kept secret -- that Stalin's daughter has lived incognito for much of the past two decades in small towns in Wisconsin
Quiet Years
Ms. Peters said she was now impoverished. She had given much of her book profits to charity, she said, and was saddled with debt and failed investments. An odd, formless odyssey began. Friends said she appeared unable to live anywhere for more than two years.
Mr. Peters died in 1991. Ms. Peters's son, Iosif, died in November 2008.
Besides her daughter Olga, now Ms. Evans, Ms. Peters is survived by her daughter Yekaterina Zhdanov, a scientist who goes by Katya and is living on the Kamchatka Peninsula in Eastern Siberia studying a volcano, according to The Associated Press. Reached later on Monday by e-mail, Ms. Evans told The A.P. that her mother had died in a nursing home in Richland Center, where she had lived for three years. "Please respect my privacy during this sad time," the wire agency quoted her as saying.
Ms. Peters was said to enjoy sewing and reading, mainly nonfiction, choosing not to own a television set. In an interview with The Wisconsin State Journal in 2010, she was asked if her father had loved her. She thought he did, she said, because she had red hair and freckles, like his mother.
But she could not forgive his cruelty to her. "He broke my life," she said. "I want to explain to you. He broke my life."
And he left a shadow from which she could never emerge. "Wherever I go," she said, "here, or Switzerland, or India, or wherever. Australia. Some island. I will always be a political prisoner of my father's name."
Elizabeth A. Harris and Lee van der Voo contributed reporting.
Graham, Toronto
Paul, from St. Louis, wrote: "It's a sad story. Does anyone else hear echoes of the lives of Elizabeth Taylor, Judy Garland, and other celebrity children with unhappy adult lives?"
Yeah...it's just like that. Just like Judy Garland and Elizabeth Taylor if their fathers had murdered 20,000,000 people or so. Recommend Recommended by 67 ReadersReport as Inappropriate17.JimNew JerseyNovember 28th, 20114:35 pmMet her briefly at a reception shortly after her marriage to Mr Peters. Though I was young and far from wise (still am) I could sense a profound sense of loss-- of identity and of place. Some years later I received a short letter from her and even in those few lines one could still feel that emptiness. I hope her soul has found some peace... Recommend Recommended by 53 ReadersReport as Inappropriate9.DavidUSANovember 28th, 20112:38 pmThe memory of Ioseb Jughashvili (Stalin) is so bad that one is reluctant to say anything about him or any of his offspring.
It is telling that Svetlana was an intellectual. She spoke French, German, and English fluently. Talk about having a secret, or having a hard time with small talk: "so, where are you from? Where is your family?" How about a real dating problem: "I want you to come home and meet my dad."
Frea, Louisville, KY
Again, I think Americans typically would not understand a person like Stalin's daughter.
Folks, after reading that she died in poverty etc, will conclude, "oh, poor soul." etc
Those comments are products of a culture that cherishes "stuff" and money.
If one tries to look at life from the perspective of a person from the Soviet Union or some other less consumerist culture than the US, they might find a different view of life, one where she had no regrets.
She lived and saw events whose importance the rest of us, in our bliss of contemporary ignorance, can't even begin to fathom.
She had frustrations and failures, like anybody, and struggled in a culture unlike hers in the US, who doesn't?
But she did what she wanted to do!!
She left the Soviet Union, she traveled the world, SHE SAW IT ALL FROM A FRONT SEAT, SHE HAD CHILDREN, SHE LOVED, WAS LOVED, and she still chose to live in a small town far from the banality most of us ARE ADDICTED TO.
She didn't even have a TV.
To me, that's a life worth living!!
I challenge all of us to live a life a quarter as interesting as hers, anybody?!
anonymous12, US
I believe one quote in the story is absolutely key to understanding an aspect of her plight: the cultural differences between old Russia and rural Wisconsin. Imagine how it was to grow up in the Kremlin, to receive a superior Russian education (yes!) and be surrounded by world leaders and the great figures, to have also experienced European cultural; and then, fast forward to rural Wisconsin. i.e., meat and boiled potatoes, white Wonder bread and dairy farms, no opera, no ballet, no great cultural centers and probably not many people to chat with... It surely must have felt like a special new hell for her--no wonder she fled back and forth between the high dignified culture of Europe and the very qualified freedom of America's "culture". It must have been sickening.
I wish to extend my sincere condolences for her daughters, who surely loved her mother no matter the series of events or estrangements. May she RIP.
Ken Gedan, Florida
NYTimes readers, please put the life of Stalin's daughter in perspective. She had freedom, wealth, education, and power.
There are millions of women in this world who live a life of poverty, no health care, no education, violence, famine and early death.
Svetlana Stalina does not need your empathy.
Einstein's Mom, San Francisco, CA
I met her at Princeton Reunion in 1969, a big year for my father's class. She was a friend of one of his classmates. My brothers and I, all under the age of 12, had no idea who she was. She had no class pin, so borrowed my father's. The Italian periodical, Oggi, was there, unbeknownst to us, taking pictures for an upcoming issue. Our family and friends in Italy caught the photos of her wearing my father's name. It shocked them, to my utter confusion. I couldn't get a single solitary grown up to explain who Stalin was, or why he was so detested. The only thing I remember about our meeting is how happy she seemed. I suspected that he couldn't be too terrible if she was so happy. I am sorry to learn how unhappy she must have become. One could never escape such a dark shadow.
mkatz Cornwall, VT
Truth is stranger than fiction, eh?
She changed her story whenever it suited her and her masters.
Peter S, Minneapolis
Like Jim - I had the opportunity to meet and have lunch with Lana in Wisconsin in the early 80's. Our hosts had wisely chosen not to draw attention to her background. I remember an erudite woman with ramrod straight posture. Elegant. And I distinctly remember a tremendous heaviness about her - a profound sadness. Several days later when I commented on her aura to my fellow lunch guest I was told who she was. Needless to say it explained the sense I had of her. The poor poor woman. So very sad - she did not have a life.
NativeNewYorker, Manhattan
How was Ms. Peters such a "poor woman". She lived life as a princess, was able to leave her home, and then become a millionaire in the 70's telling her story. Her biological father was a failure as a human being, so she had membership with a large number of men and women with powerful fathers who were cruel. May she rest in peace now, but I feel she played the victim until the end. I sincerely hope her daughter has the smarts to not discuss her family background and to make a name for herself.
alan wright, jersey city, nj
It appears Ms. Peters-Alliluyeva is the first American Baby Boomer, though her post-war birth came after the Russian civil war.
Like so many boomers before her, she was was always searching and never finding peace. Like boomers, she found and embraced her freedom (in America), only to grow resentful of it, mock it, and reject it later when it ceased to serve her mercurial attentions... only to embrace it again when she came of age. Like boomers, she sought always to free herself from the shadow of her elders, and in doing so crept closer to the shade they provided.
The mind is such a twisted thing, that it will not let us live down our anxieties and pain. The more we try to run or hide from them, the deeper their roots grow. It seems for Ms. Peters-Alliluyeva that the roots laid down by monstrous father ran just too deep.
Her story is a sympathetic tale, but much less so than those millions who suffered or fled Russia, burdened not by the mental and emotional demons of Joseph Stalin, but physical, mental, and emotional scars that Stalin's demons unleashed upon them.
PJ, Chicago
I'm reminded of the holy book: "I, the Lord your God, am a jealous God, visiting the iniquity of the fathers on the children, on the third and the fourth generations of those who hate Me"
Very ironic indeed that she passed her final years in Wisconsin, where the descendants of many refugees from Stalin's genocides and repressions settled
See images with Svetlana ALLILUYEVA from the Magnum Photos Catalogue, 1969